Hello Mazda of Valencia Buys Cars
Get an upfront offer for your car. Really.
Used car values are at an all-time high, fueled by a strong automotive market and a shortage of quality used vehicles. In many cases, vehicle depreciation has lapsed or even reversed for a large subset of the used vehicle population. In other words, some cars are going up in value.
As a result, your car is likely worth more than you think and quite possibly more than you owe on it.
If you've been thinking about trading your car in for a new one, or selling it outright, there isn't a better time to do it than now.
Benefits to selling or trading your vehicle in the current used car environment: 
Top dollar for your vehicle ­– Unprecedented demand for quality used cars means you'll get top-dollar for your trade.
Positive Equity Opportunity – Equity in your car is cash in your pocket – or money you can put towards a new vehicle purchase. Take your pick.
Upgrade to a new car for less – What's better than a great offer on your car? A shiny new car of course. Chances are you can upgrade to a new car for the same or a lesser payment than you're currently paying. That's a win-win.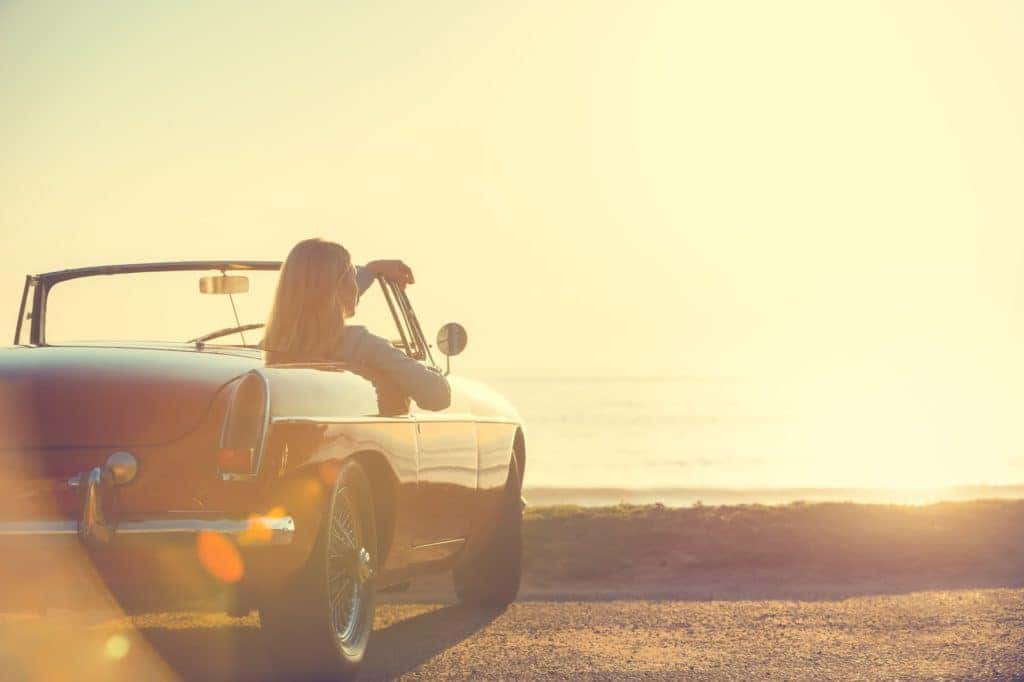 Why Sell Your Car to Hello Mazda of Valencia
Selling your car to Hello Mazda of Valencia is the upfront, quick, and convenient way to maximize the what you get for your car. Our no pressure approach makes the process completely seamless and a welcome alternative to other dealership experiences. Say hello to the refreshingly easy way to sell your car.
Reasons to say "Hello" to the Hello-No-Hassle trade experience:
Quick and Easy – Get an upfront, fast and convenient offer in minutes.
None of the hassles with selling your car privately –No late-night phone calls. No strangers at your door. No uncomfortable test drives.
A check you can take to the bank – Avoid the stress associated with third party payments. We're good for our offer and we take care of the paperwork to close your lienholder account (if applicable)
Registration Assurance – When you sell your car, and/or purchase another, you can rest assured that the title work will be completed quickly, promptly and correctly.
Purchase Offer Details
Once you receive your Hello-No-Hassle upfront offer, the choice is yours on how you'd like to use it.
Your offer valid for 7-days
Your offer is valid whether you buy a car from us or not
I'm ready to redeem my offer. What do I need?
When you're ready to redeem your offer give us a heads up that you're coming in and be sure to bring the following with you:
Valid, state-issued ID for all titleholders
All titleholders should be present
Payoff information
All sets of keys
How is payment issued?
Once your vehicle title is delivered, we'll promptly issue your payment. If you plan to use your offer towards the purchase of a new car, we will apply those funds. If you're selling outright, or don't want to apply all of your equity towards your new car, we will issue a check.
---
Say Hello to the Hello-No Hassle Buying Center – The upfront, quick and convenient way to sell your car.
---
Looking to sell your vehicle near Santa Clarita, CA? Hello Auto Group Buys Cars! That's right, we will buy your vehicle outright and there's no need to buy one of our vehicles. We are always looking to buy cars in Los Angeles, Palmdale, Glendale, Alhambra, San Fernando, Simi Valley, Pasadena and Van Nuys. Hello Auto Group has 2 dealerships conveniently located in Valencia, CA with a brand new Subaru dealership being built right next door. We specialize in Kia, Mazda, Toyota & Subaru but purchase all makes of vehicles such as Nissan, Honda, Acura, Lexus, Volkswagen, Mercedes Benz, Audi, BMW, Dodge, Ford, Chevrolet, GMC, Cadillac, Jeep, MINI, Scion, Hyundai. There's also a special place in our heart for those cool enthusiast classic cars like the legendary Mazda RX-7, Mazda Miata, Toyota Land Cruiser, Range Rover and more! We offer top dollar for your used vehicle in a fast and easy process. Stop by Hello Mazda of Valencia in Santa Clarita, CA on Creekside Road to get an instant cash offer on your vehicle!